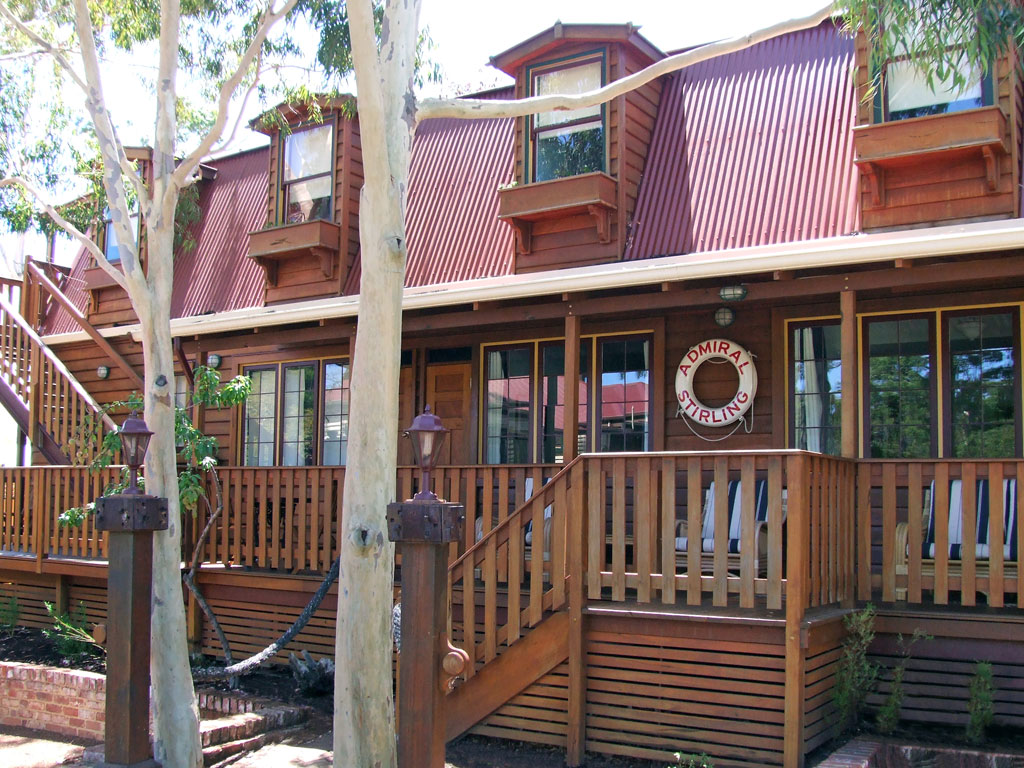 Admiral Stirling Inn
Located in leafy surrounds on a lane in Margaret River, Admiral Stirling Inn has the air of naturalness, yet is within several minutes' walk of all the town has to offer.
Named after a man with a sense of adventure and Western Australia's founding governor, Admiral Stirling Inn executes its nautical theme tastefully, with true sensibility and respect in extensive use of the extraordinary hardwood timbers for which Western Australia's south-western forests have been renowned.  Indeed, it is not exaggeration to say the place has been crafted with love, the proprietor and craftsman being one and the same.
Once discovered, Admiral Stirling Inn has proven to be a place to return to in Margaret River by those who like their accommodation enhanced by individual personality and warmth of character, as well as convenience of location.  'Exceptional', 'wonderfully different', 'a real discovery', and other superlatives continue frequently to be exclaimed of Admiral Stirling Inn, by guests in her flagship self-contained accommodations and by others who have enjoyed her extraordinary all-guest facilities.
An undercover barbecue area, with seating and relaxing trickling water of small pond, welcomes all guests to use it.  This leads from the 'Engine Room', a large, equipped kitchen with breakfast bar and lounge, highlighting the beauty of South-West timbers, again for all guests to enjoy.  Admiral Stirling Inn also has a small coin-operated laundry for guests' afternoon use.  Access to wi-fi, and to the DVD library at reception, is complimentary to Admiral Stirling Inn guests.
Admiral Stirling Inn has options for fully self-contained accommodation quarters for two to eight people, or accommodations with private facilities of differing configurations, for individuals to small families.
All Admiral Stirling Inn accommodations have reverse-cycle air-conditioning; one or several TV-DVD; and tea- and coffee-making facilities.  Amongst the substantial range of accommodations Admiral Stirling Inn offers are her flagship quarters, unique in quality of design and materials:
The Governor's Quarters
Upper storey accommodations with a balcony verandah set in the leafiness of a tree, and with double level interior including leadlight windows.  The lower floor has equipped, leadlight-lit Jarrah and Marri kitchen and dining; lounge which includes refurbished original circa 1904 Western Australian Legislative Council backbench and writing desks from which to bring order touring plans; two queen bedrooms; and a bathroom with shower and toilet and vanity.  The Jarrah staircase leads to a mezzanine with two single beds; a queen bedroom; and another bathroom with shower and toilet and vanity.
The Admiral's Quarters
Ground floor accommodations with two bedrooms, one with queen bed and the other with double bed; lounge; hardwood kitchen and dining; and bathroom with shower and toilet and vanity.  Like the Governor's Quarters, the lounge boasts leadlight windows and a circa 1904 backbench from the Western Australian Upper House, from which it is your parliamentary privilege to engage in discussion or to sit on senatorially to ponder your holiday agenda or just to watch television.  The lounge also has a quality fold-out sofa-bed.
The Captain's Quarters
Ground floor accommodations with private 'Fremantle Port-style' deck with barbecue, accessed through French doors from the lounge of the combined lounge, dining and small kitchen.  The bedroom has both a queen bed and a king single bed.  The lounge also has a quality fold-out sofa-bed.  There is a bathroom with shower and toilet and vanity.
Admiral Stirling Inn offers convenience, style and value for money.  Come, let us welcome you aboard!  A friendly welcome will greet you at reception, which is located adjacent across the street, at Adamsons Riverside Accommodation.